My wife and I are new to collecting and have found, on one of our recent forays, what we believe is the top and bottom to a fairy lamp, but we are not sure. We have not seen this style to date and are curious to know more. Could someone please help us fill in the gaps?
These is exceptionally beautiful glass. The pieces are pink in color with shimmering iridescent rainbow hues. The glass is 'pebbled' and has a leaf pattern. To give some scale, the top shade height is around 3 5/8" with a width of around 5 1/2". There is no signature.
The inside of the top shade has three pronounced 'notch' areas and the bottom has four. The notches, and the fact that the two pieces do not fit well together, lead us to believe we are missing a third piece.
Thanks, Stephen and Carla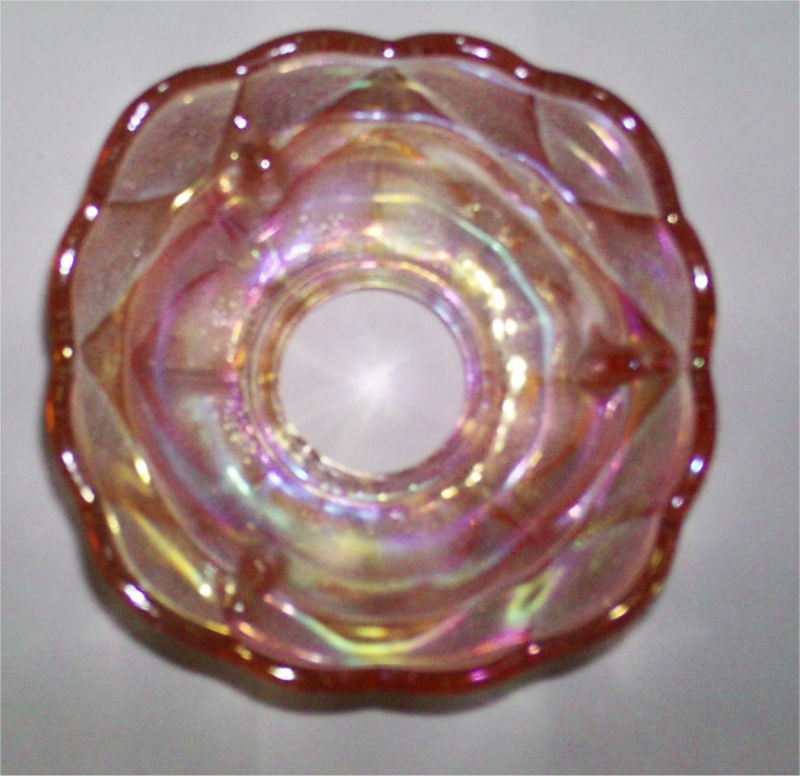 Steven & Carla
First, welcome to the Fairy Lamp Forum. If you are a beginning collector, this is the place to be.
Well, it appears that you have two unrelated parts. I am not sure what the bottom is but the shade appears to be from L.E. Smith c. 1970's-80s and perhaps later. L.E. Smith produced many different styles of candle lamps on pedestal bases, most are well documented in their catalogs. This particular model, unfortunately, is not - that I am aware of.
Below are examples of what it should look like if you had the proper pedestal base.
I really do not know what your base is, however, it may be a simple candle holder or a part to something else.
Jim.
Admin




Posts

: 738


Join date

: 2008-01-16


Age

: 74


Location

: Pine, Colorado



Thanks for the swift reply Jim. It shade certainly does look like a match to your photo examples, so that's part of the mystery solved! We will be on the hunt for a base...

We bought both pieces together in a second-hand shop. I am very curious about the base piece, since it is so similar to the shade. It is the same design, color and hue/tone (the pictures do not display this well) and it does have the notches, which, to me, indicates that it goes with some other piece.

The search for answers is all part of the fun.

Best, Stephen
Steven,

Here is a chance to get a complete lamp:


Admin




Posts

: 738


Join date

: 2008-01-16


Age

: 74


Location

: Pine, Colorado



Thanks so much for thinking of us, we are actually watching that ebay auction! We were thrilled to see what the base looks like, so that we can be on the lookout during our forays.

We now have two shades (we found another pink frosted, non-iridescent, shade for a couple bucks), so we now need two bases. We did find two frosted pedestal bases (different maker) that have a sort of castle turret top and the notches fit our shade notches perfectly. Of course, it's a marriage, so WE know...

By the way, we also found several examples of the votive base on ebay, the one we erroneously thought was the base to these shades. We now think a glass globe of some sort is supposed to sit inside (for the candle).

Thanks for all your help!
Best, Stephen

---
Permissions in this forum:
You
cannot
reply to topics in this forum