I have a fancy Vaseline glass piece which I think is for a Fairy lamp...........??

Not sure where I can post a photo.........
is there anyone I can send it to??

thanks!
Jayne S.
Hi, I would be happy to help you post a photo. You can you email the photo to me at
jimsapp7@msn.com
and I'll post it for you.
Jim.
Jane,
This type of open floral shades are always difficult to identify for certain. As you might know, there are many styles similar to yours that are designed for gas and electric lighting. There are, however, some similar designs specifically make for candle lamps. Most, if not all, are Bohemian. The following is a page from a c.1905 Carl Hosch catalog that shows a few typical examples. None, however, are quite like yours.
If your shade was made for a gas or electric lamp, it would have had a "waisted" fitter. However, there are some floral shades that do not have a "waisted" fitter, but most do. Below are a few gas or electric shades from a Kralik catalog. The vintage is unknown but is assumed to be early 1900's. You can easily see how the "fitter end" differs from yours.

My best quess is that your shade was intended for a candle lamp and had a matching or complimentary colored base.
Given that you do not have the correct base, I think your shade would look very nice on clear pedestal base as shown below. (If your size is right approvimately 2.25")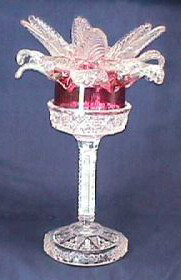 I am sorry that I could not provide a more difinitive reply. Perhaps others can be of more help.
Jim.
2 5/8" will be pretty tight for this style of pedestal. 2 1/2" is about the maximum diameter it will take.

They come up for auction periodically on eBay and a search for "fairy lamp" will usually find them. There are several different styles available and the diameters may vary slightly. Be sure to check with the seller before buying one. They usually go for any where from $25 - 50. Occassionally, a bit higher.

Good luck
Jim.
wow

the picture looks very beautiful,

.



Posts

: 4


Join date

: 2010-03-24



I just found a pair of shades very similar to the original post. Mine have a pale pink glass collar and lower petals, and olive green upper petals. The outside measurement of the collar is 2 1/8". The pink petals are tooled with "veins" while the green ones have a single "fold" down the length.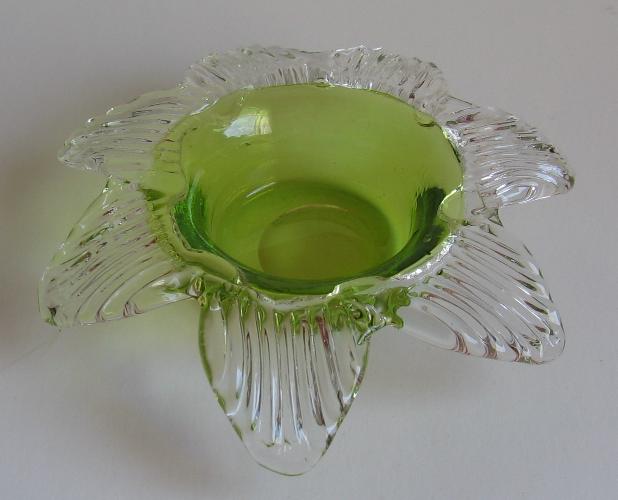 I agree that the ones with a straight collar are for candle lamps rather than electric. Thanks for looking,
John



Posts

: 127


Join date

: 2008-01-18


Location

: Pennsylvania USA




---
Permissions in this forum:
You
cannot
reply to topics in this forum