I purchased a Fairy Light, Fenton the other day on ebay. I recieved it today. It is a green sherbert(?) lamp with a ruffley skirt around it, a bit larger then "fairy" size. I have to learn a bit more, but my question to you....
The lamp is a 3 piece. top, bottom and a clear glass cup insert. The original Clarke cup had been broken, so it was replaced with another vintage cup, with a "w" circled, on the bottem.... who made this?
Thanks for yalls help

Are you sure it is a "W"? LG Wright used a "W" with a circle for awhile, but it is rarely seen on fairy lamp cups.

If it is an "M" and not a "W" it may be Mosser.

Can you post a photo of the trademark?
Admin




Posts

: 738


Join date

: 2008-01-16


Age

: 74


Location

: Pine, Colorado



Yes, some, but not all of the L. G. Wright candle cups were marked. I had collected the Wright fairy lamps and had some of the cups marked. It is a circle with a W in it. I just checked and have a marked candle cup in one of the Wright lamps that I still have. Hope this helps you. John
Hi. I am back again about the candle cups. I make a distinction between the candle dish and the candle cup. Most of L.G. Wrights fairy lamps were comprised of 4 pieces: the base, the candle dish, inside of this the candle cup, and the the dome/top. I believe that most if not all of the candle dishes were makred with the W inside a circle. This was not true of the candle cups, as stated in my previous reply. I just tied to get pictures of the Wright mark on a candle dish as well as the candle cup. No luck. Thanks. John
Hi and thanks for your info. I will get a picture of it and post it over the weekend sometime. How do you tell a W from an M? To me it would seem like whether pr not your are holding the cup right side up or down lol!

Hi. The Wright mark is a circle with a W. When Mosser has an embossed mark, it is an M in the outline of the state of Ohio. The candle dishes that I have from Mosser have a clear sticker with the words Mosser Glass Cambridge Ohio. The color of the writing is in a gold tone. There is also a large M inside the outline of the state of Ohio. As far as I know, Mosser has only made the candle dishes and not any candle cups. Another way to tell the Wright candle dish from the new Mosser ones is that the L.G. Wright candle dishes have 6 raised dots on the bottom on the outside. The Mosser candle dishes do not have these 6 raised dots or any dots at all. Hope that this helps you at least some! LOL Thanks. John
Ok, I looked at it for a sec last night, it is definatly a W then. and a circle around it, clearly a cirlce, not shaped like anything.....but a circle. have got to get yall a pic. I like it. Not standard with the Fenton lamp, but definatly cool. I also looked into buying Tallow candles. However I am not a vegetarian, but after reading about them, do not condone, therefore I will buy battery operated candles because I have had a few break recently!

Thanks, will get a photo soon.

The following image show what the LG Wright "Circle Trademark" looks like. This example shows a "rocker" under the "W". I do not know if it comes with or without the "rocker."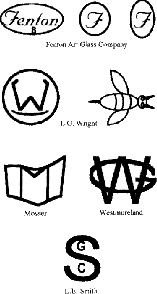 If you are planning to purchase battery lights, avoid the ones that look like "squatty" candles. They typically are too dim and do not have a "white" light. I would recommend the Brinkman GO-LED lights. They get weaker as the battery wears down but they are relatively inexpensive. Use them for special occassions....not, all the time.
Jim.
Admin




Posts

: 738


Join date

: 2008-01-16


Age

: 74


Location

: Pine, Colorado




---
Permissions in this forum:
You
cannot
reply to topics in this forum