Does anyone know anything about these two pieces? The first one, the lion, has glass eyes (applied with plaster from the back) and it is very small 2 1/2" tall and about 3 1/2" wide and unmarked. The second one (I don't know what it is) I bought thinking it could be a nursery lamp, but I'm uncertain. It has glass eyes (but the inside is entirely glazed over including the eyes). It measures about 3 1/4" high and is about 4 1/2" long. The bottom is marked 12.18. in delicate black ink.

aprileb




Posts

: 4


Join date

: 2008-01-17



April,
I am sorry but I can't be much help with your figurals. The lion is similar to others we have seen but I don't know anything about it. It is the first one I have seen like this.
The cow (bison?) may be a tobacco jar without the lid. But, that is a guess since the eyes do not appear to be transparent. That said, it bears a stricking resemblence to the Bison (R-380),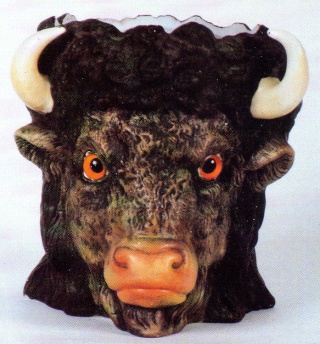 "R-380 Bisque painted bison, orange transparent eyes with black center. 4.25"h x 4.75"w x 4.125"across horns."
Is there any chance the top of your Bison has been repaired or ground down?
Jim.
Last edited by Admin on Wed Aug 06, 2008 2:09 pm; edited 1 time in total (Reason for editing : Added comment.)
Hi Jim,
The inside had not been repaired or altered and I have a couple of old tobacco jars and the top does not look anything like the ones I have. It does look so much like R-380 (that's why I bought it). I think I paid around $8 for it a long while ago. The eyes look the same, the snout looks identical and the inside glaze is the same. Kind of a mystery. I just don't know why they would put in glass eyes then glaze over the back of them. Does anyone in our club own (R-380) –as I wonder if the inside of the eyes are glazed over–?
Aprile B

aprileb




Posts

: 4


Join date

: 2008-01-17




---
Permissions in this forum:
You
cannot
reply to topics in this forum