ok, these are a little closer. although the coloration does seem to change depending on the strength of the light. that seems to be universal with Uranium glass though. I have another piece that is nearly white in some lights and a moss green in others from Harrach. One day I spent an hour playing with it in different spots of the house, because When I first saw it my initial thought was GREEN! Then it was on a shelf for a few months and I took notice of it and it didn't look the same color that I remembered it being. it was one of those, "am I losing it?" moments. Since then I've really noticed time of day color changes in my uranium glass.
these pics are taken with the natural daylight setting no flash indoors. the last ones were on an auto white balance indoors no lights on.
If this is still considered a white, wouldn't this be an unlined peachblow? New England I think was the only one to have made it unlined. whatever this is, it's a quality piece. it was not cheap.


azelismia




Posts

: 6


Join date

: 2010-04-29



it's not definitely not bristol and my pictures must not be capturing the color quite right for you. I had to adjust the white balance on my camera to capture this. this time of year is brutal for getting good shots.
it is a temperature shaded glass that goes from a creamy yellowish beige color to pink. it's not cased and it's not white. it reacts to UV. it's got a nice heft for it's size 6 inches by about 2 1/2 looking at the pic in hand compared to the coloring of Burmese in books, it's identical.
Bristol glass was a glassware made in bristol from the late 1700's to the Late victorian era. it was originally a blue clear glass. they also made a white glass that looked similar to porcelain. most of what is called bristol glass today is not actually bristol. It's mostly from bohemia. it's a lightweight plasticky looking glass with subpar decoration (usually, sometimes they are decorated nicely, the reason for this is that the cheap glass blanks were sold to a variety of decorating houses some better than others) the other kind of glass that tends to get lumped in with Bristol is opaline glass. This is usually also bohemian in origin sometimes french and sometimes english. I think Richardson did some opaline glass.
it's never an unlined temperature sensitive glass though.
Loetz did a type of glass that is similar to Burmese that does not react to black light. I'll try to dig up some pics of it. If this didn't react to uv I'd be suspecting that. I mostly collect bohemian glass, but I do dabble in American and English when it becomes available.

I'll add some updated pics with a different white balance as soon as they are uploaded.

azelismia




Posts

: 6


Join date

: 2010-04-29



Thanks for the pics. I still can not help with the decoration but, I do not believe the glass is Burmese. It appears to be a pink shading to near white sometimes referred to as Bristol glass. (Exactly what "Bristol" refers to is unknown to me.) I had similar thoughts on the eBay item but did not trust my opinion based only on the eBay photos.

Jim.

P.S. I will review my other references on Victorian glass and will let you know if I find anything.
here you go, I am new here. I hope I am posting these correctly

I bought mine from England.
Last edited by azelismia on Thu Apr 29, 2010 4:50 pm; edited 1 time in total

azelismia




Posts

: 6


Join date

: 2010-04-29



I am not familiar with either the decoration or the shape of this bowl. I could not find the decoration in either Sisk's or Wilson's book. It is not, however, Webb.

I would like to see the decoration on your vase for comparison.

Jim.
I just bought a vase with the same decoration as the one in this ebay auction.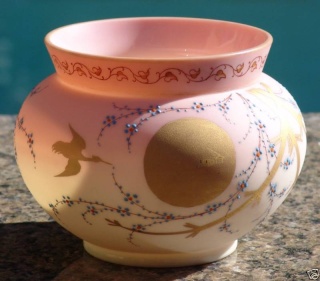 What is the current thought on this pattern. Mine has a ground pontil, not polished. it's burmese glass. it does glow with blacklight.

azelismia




Posts

: 6


Join date

: 2010-04-29




---
Permissions in this forum:
You
cannot
reply to topics in this forum