I picked up this floral stem this Winter. I assume if it was meant to have a function, that it was as small vases for a single bloom or a few tiny stems and was not a fairy lamp(???). It measures 10.75" long overall. The interior diameter of the glass flowers is approximately 1.5". The flowers measure 3.25" wide by about 3" tall. The stems and leaves have a satin gold ormolu finish, while the 2 buds and 2 flower sockets have a shiny copper/bronze finish. It is stamped "419" on the underside of one of the stems.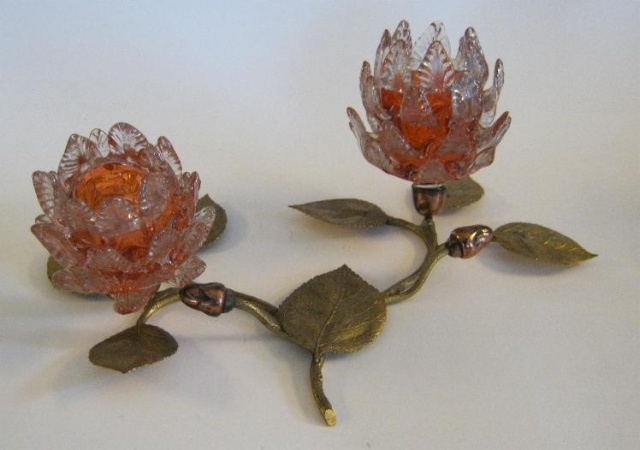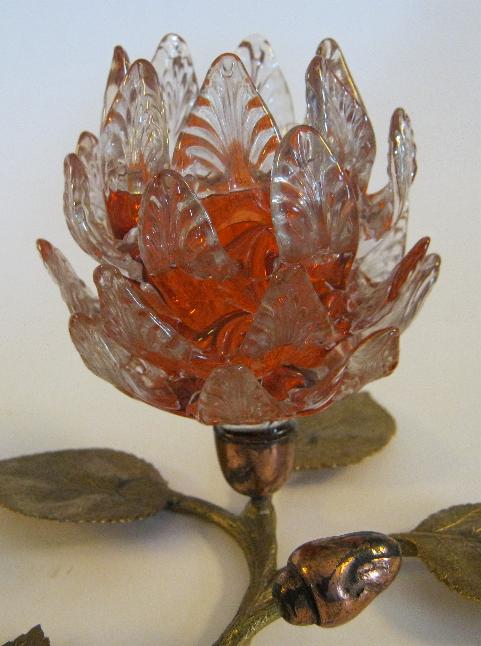 It reminded me of this fairy lamp that I dug out of old stock. It is the same tangerine glass body with clear applied petals.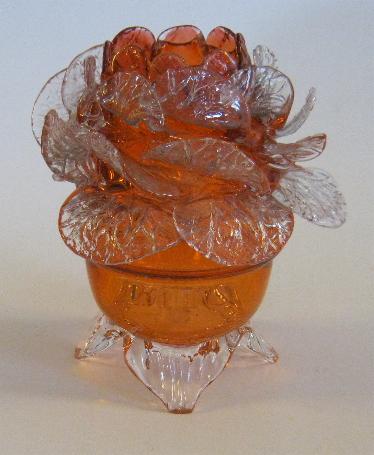 What is the prevailing wisdom on the "florals"? Are they English? Bohemian? Have you seen other variations of these "stems"?Thanks for looking!
Jno

jnopoinsett




Posts

: 127


Join date

: 2008-01-18


Location

: Pennsylvania USA



Great lamps John!!

The first place for your to look is at

Re: floral lamp on the bottom......Do you think the base is a match for the shade? Or, do you think it is a marriage? Regardless, they seem to go very well together!
Woweee Jim, I'd missed out on the "Floral" page on the website until now. Thank you for posting!

I do believe the tangerine floral shade and base are original. When I bought it, years ago, I also bought a pink one just like it from the same dealer. The tangerine one is missing several petals from the shade, and it didn't sell. Now I'm glad it didn't. It looks very nice beside the tangerine/clear/ormolu stem. It is amazing that those survived without any damage.

Thanks,
Jno

jnopoinsett




Posts

: 127


Join date

: 2008-01-18


Location

: Pennsylvania USA



Congratulations John!!
You posted the 1000th message on this forum!

Way to go!
Jim, we don't say it often enough----we all owe you a BIG THANK YOU for bringing all of us together, and for the incredible amount of fairy lamp information that has been gathered since the inception of the Fairy Lamp Club/Website/Forum.

so..........THANK YOU JIM!

Jno

jnopoinsett




Posts

: 127


Join date

: 2008-01-18


Location

: Pennsylvania USA




---
Permissions in this forum:
You
cannot
reply to topics in this forum