I just received a Clarke's base in cobalt blue that was listed on eBay as a master salt. Upon inspecting it I found that the word Pyramid is spelled without the i--can someone tell me if this is uncommon or if it is authentic? Thanks in advance.
PacRat:
I am afraid your lamp cup is new. However, I have never seen one in blue.
Following is an article from the Fairy Lamp Club Newsletter, November 2007 that addresses it.
REPRODUCTION ALERT
by Jim.
Most of our members would not have any difficulty distinguishing contemporary from Victorian-era fairy lamps. Most would be easily recognized, even those produced by Price and distributed by Faroy in the 1950's, as being a reproduction Clarke pyramid fairy lamp. There is, however, a new pyramid fairy lamp on the market that could easily confuse the beginning collector.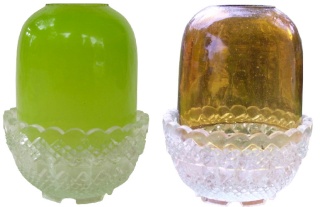 Anyone you frequents eBay in search of fairy lamps certainly has seen these. They have been showing up in eBay auctions for at least a year.
When I first noticed the fairy lamps, I did not pay too much attention to them except as a curiosity. Recently, however, I received an inquiry from a member that raised a degree of concerned. Could a beginning collector be confused into thinking these were antique Clarke fairy lamps? Hopefully not, but to be sure, a discussion is warranted.
First, let me say that I know very little about these lamps. I do not know who made them, the country of origin, or even the distributor. The following information is gleaned entirely from eBay auctions.
I have seen two predominate colors, amber and green. There may be other colors that I am not aware of. The green version appears to be cased or flashed on the inside but I can't be sure without having one to inspect. The amber color seems to be inconsistent, some lighter than others.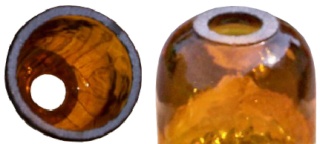 The glass appears to be very thick and heavy and has ground top and bottom surfaces typical of a belt or wheel sander. While the shade is the most obvious reproduction, the lamp cup provides the most likely source of confusion.
The clear pyramid lamp cup appears to be an exact reproduction of an original Clarke lamp cup, with a major exception — the Clarke trademark and logo.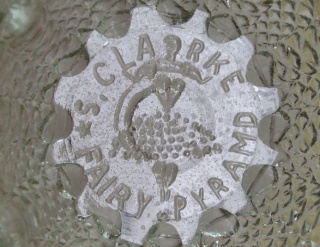 At first glance it appears to be an authentic Clarke trademark and then the obvious sinks in.
The word "Pyramid" is spelled "PYRAMD" — a good indicator even for the beginning fairy lamp collector. There are other more subtle differences but it is not necessary to go into those right now.
The seller (appears to be the same seller going by different eBay names) of this lamp on eBay seems to be aware of what they are selling. They routinely sell reproduction items and of-ten use the ambiguous term "vintage" as op-posed to "antique." They are also consistent in spelling out the Clarke trade name as "PYRAMD." Perhaps this is an honest at-tempt to provide an accurate description or, perhaps a deliberate attempt to avoid any mis-representation.
As for eBay sales, I think they have been weak at best. Perhaps a few brought prices higher than true value but I think most buy-ers recognize them for what they are.
If anyone has any information on these fairy lamps, I and our members would love to hear from you.
Admin




Posts

: 738


Join date

: 2008-01-16


Age

: 74


Location

: Pine, Colorado



Wow! Thankfully it was only a $5 blunder--this is why I'm trying to get my hands on all the info I can find before I mess up. Thanks for the article, obviously I need to make the Newsletter Binders one of my next purchases. I did order the CD this morning but the binders would be nice to have with me when I'm out "hunting".
I noticed an amber piece exactly like the one in the newsletter on eBay today (the timing of the universe at work!). I do wish I could say "I won't be fooled again", but with my passion for these little pretties and my inherent impulsivity, I imagine this isn't the last time. Live & learn - Denise
Even with as much information as I have, and for how long I have been hunting, I have still made mistakes that I wish I could take back. This is why the newsletters and the forum as so important. The information that is distributed is more than one persons' knowledge about the subject. For every question that is asked, 30 people or more have the ability to learn.
I hope that you can fix your $5.00 blunder by finding a nice lamp at a great price and then you can consider yourself money ahead.



Posts

: 309


Join date

: 2008-01-31


Age

: 54


Location

: Nevada



All-
I must admit, in my early days of collecting, also purchased one of these repro lamps. I did not discover what
was going on for awhile and when I finally realized what WAS going on brought this to Jim's attention.
Needless to say, by that point, I think I inadvertently sold the PYRAMD cup to another unsuspecting
collector, who may not have caught the spelling. I'm sorry to whomever was the recipient, and if you bought it from me (nctheo), I will exchange it for a REAL Clarke cup. I still have the top (green) and yes, it is cased in white, heavy and very crudely made. I have tried many times to contact these vendors, but they usually will not answer my questions.
I did finally contact one last July (bluebirdhut), a seller on ebay, who was rather rude and abrupt, but I still have
their answers and if you would like to email me at
tedde@comcast.net
I will pass them on to any of you.
I will forward the emails to you today Jim-feel guilty now, should have done this earlier when we were talking about it.
Their answer was basically "they had purchased them in case lots, still sealed, from a closed antique store in Iowa at an auction". That is their exact words (part of them). Email me if you want me to forward the exact email from this vendor.



Posts

: 4


Join date

: 2008-08-21



I have read the sellers emails and see no point in posting them or persueing the topic with the seller. Sometimes it is best to let sleepings dogs lie. However, I have little doubt that he has a case full of them.

Jim.
Admin




Posts

: 738


Join date

: 2008-01-16


Age

: 74


Location

: Pine, Colorado




---
Permissions in this forum:
You
cannot
reply to topics in this forum