A few weeks ago I was fortunate to be the high bidder on a Burmese fairy lamp decorated in the Barberry pattern. This is a rare pattern and I was excited to add it to my collection. That excitement quickly diminished when I discovered the shade had been repaired.
Apparently, a rather large section was broken out and glued back into place. The really odd feature was that the repair area was spray painted over on the inside and outside with a perfectly matched yellow paint. Then whole shade was then sprayed with a clear lacquer. The repair was nearly impossible to see except for holding it up to bright sunlight....then the repair line was readily apparent. Fortunately, the seller agreed to a refund.
Below are a few photos of the Barberry design for your files.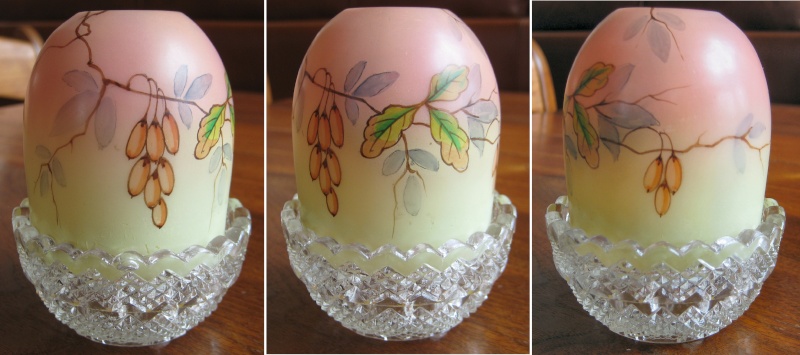 Admin




Posts

: 738


Join date

: 2008-01-16


Age

: 74


Location

: Pine, Colorado



Shame to hear that it did not work out Jim. The lamp appears to have a sheen (perhaps just from the flash, or from the lacquer?). I am glad to know you were
the winning bidder, I may not have noticed the repair if it is as good as you describe. Could it be that is why they had listed it with
very unclear photos?



Posts

: 4


Join date

: 2008-08-21



The sheen you see in the photo is from the clear lacquer. You could also see where the paint was beginning to flake off on the inside. That is what drew my attention to the repair. I had to scrape some of the paint off to see it clearly. Needless to say, I was dissappointed but the seller made it right. I do not think they knew about the repair and had not seen enough Burmese to know that it is not painted to achieve the color.
Here is a photo of the repair. You can see the crack and where I scraped the paint off. You could not see it or feel it before I scaped the paint off.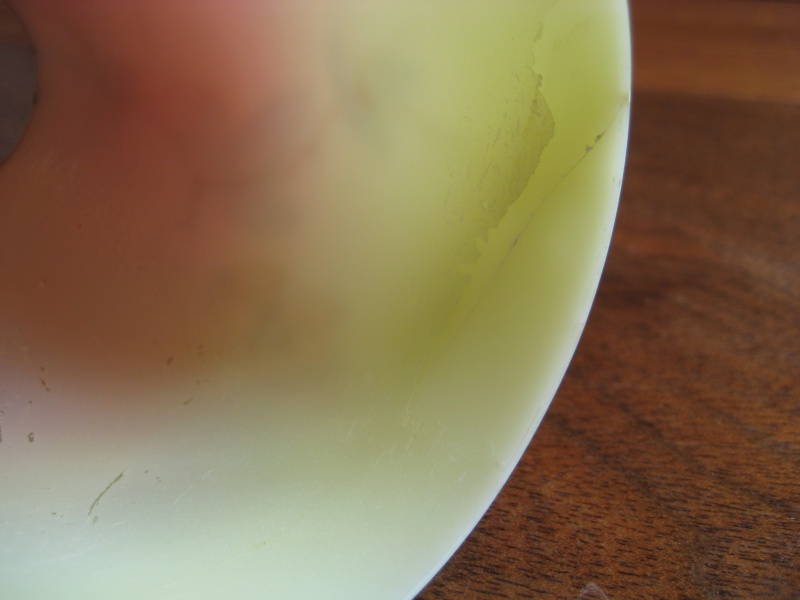 Jim.
Admin




Posts

: 738


Join date

: 2008-01-16


Age

: 74


Location

: Pine, Colorado



Three years ago I purchased a decorated burmese vase from a reputable dealer in glass. I purchased the vase from a photo and did not see or handle it until it arrived in the mail. After examining it very carefully, it became clear to me that a repair had been painted over. It was a very skillful job that fooled the dealer I bought it from even though high end glass was her specialty. She allowed me to return the vase, refunded my money and considered herself schooled. Seems that your experience with the fairy lamp was similar to mine. Buyer be informed.



Posts

: 98


Join date

: 2008-01-17


Location

: Utah




---
Permissions in this forum:
You
cannot
reply to topics in this forum