Hi, I hope I've embedded the image correctly. I've seen this style lamp available occasionally on Ebay and the prices range from around $500.00 to close to $900.00
What is a reasonable price to expect to pay for this sort of lamp in todays market?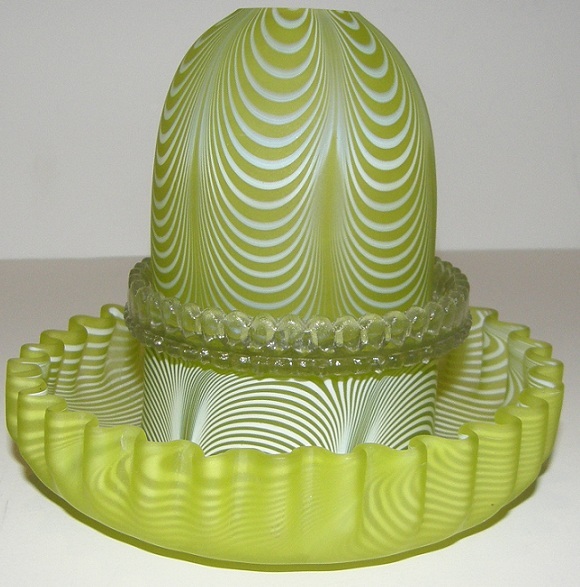 http://www.ebay.com/itm/251250636246
I know you knowledgable people know a lot about these Clarke lamps. Maddie
Last edited by Admin on Mon Mar 25, 2013 10:08 pm; edited 3 times in total (Reason for editing : adding information)



Posts

: 10


Join date

: 2013-03-11



Maddie,

I am sure there are many different opinions on the value of this lamp. As you may know, it is R-558 in Fairy Lamps by Ruf. The 1996 book value was $500-750. However, I believe $500 would be "top dollar" in today's market and I would expect ir to go for less. While it appears from the seller's description that it is free of major flaws, I find the difference in color between the shade and base disturbing and it will detract from its selling price.

That said, while you asked for an opinion from others, it is your opinion that matters most. There are many factors that go into determining "value" among them is personal preference. I know I have paid a lot more for a lot less, simply because "I liked it". If you like it, what you paid for will be of little importance a year from now......unless, of course, you plan to resell it.

Good luck if you make an offer on this lamp.

Jim.

PS. I would be surprised if the seller got his asking price of $750, but he may get offers in the $400-500 range.
Admin




Posts

: 738


Join date

: 2008-01-16


Age

: 74


Location

: Pine, Colorado



Thank you Jim for the quick response. I'm not particularly attracted to this color, I prefer the red/cranberry but used this one for an example of style.
I've seen this style in three colors, the one shown, blue and red/cranberry on Ebay and they're all significantly higher than $500.00 That being said they seem to be offered repeatedly at those high prices which tells me people aren't buying them...I've read some of the archives posts from people regarding the "oddness" of pricing on Ebay and I have to say I've seen some things which make me wonder what they're thinking!
I don't think I'm going to make an offer on this particular lamp as I really prefer other colors but I do appreciate your quick response. I knew I could count on you-Maddie



Posts

: 10


Join date

: 2013-03-11



---
Permissions in this forum:
You
cannot
reply to topics in this forum