I put this image together for another Forum but thought you would like to see it for reference. The bottom row are decorations that I consider "suspicious." The one on the bottom row left is a very unusual decoration that is much different than the others. The remaining four on the bottom row have "similar characteristics" to the match holder, bottom row right.
The following link will take you to a full resolution image so you can see the details of each decoration.
Jim.

After looking at the photos of the "Match Holder" ther are several things that bother me. 1) Its not on Bermese glass 2) The green color looks off (but could be the photo) and is missing the shadows and highlights 3) The brown colored stems are painted wider than normal 4) The stems are painted in an arc, where the originals are more straight with bends in the branch (like a bush) 5) The originals have along with the open flowers, flower buds (that look like un-opened flowers) where this example makes them look like berries (as noted in the description).
This is the second example of this design I have seen with similar traits. I think they are newer copies with the idea it will increase the price / value of the piece as being "Hand painted". I am always worried someone who dosn't know the pattern and design well, will be drawn in with the idea of getting something good, but ends up with trash.


cadking




Posts

: 309


Join date

: 2008-01-31


Age

: 56


Location

: Nevada



What is this?
http://cgi.ebay.com/ws/eBayISAPI.dll?ViewItem&item=220526363285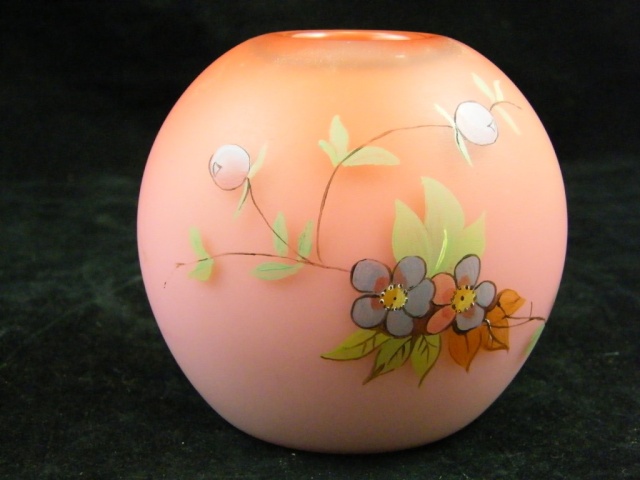 Is the decoration original? Or, added by a third party?
Last edited by Admin on Tue Dec 15, 2009 8:43 am; edited 1 time in total

---
Permissions in this forum:
You
cannot
reply to topics in this forum